Insight Into Esco Bars Disposable Vape: Why It Becomes Popular
Esco Bars have made a name for themselves in the disposable vape market with their unique design and innovative features. Their puff sticks include water-based nicotine and draw-activated technology, which add to their appeal. Besides portability, these disposable bars have numerous other features that make them incredibly popular. So, let's probe into the 6 advantages that make Esco Bars impactful through this review.
Aesthetically Pleasing and Practical Design
I appreciate the overall winning practical design of Esco Bars disposable vapes. A sleek and aesthetically pleasing style gives a high-class appearance. I love the weightless durable build quality and intuitive interface. Also, the lightweight and smooth texture fits ideally in your hands. We appreciate the perfect match of function and design. Vapers also adore the top-of-the-line appealing designs. In a nutshell, these units' style is the epitome of high performance.
Pen-Shape Esco Bar Puffs Sticks
Pen-shaped disposable e-cig has multiple benefits, which include versatility and compact size. Esco Bars Mesh 2500 puffs has a lightweight and comfortable grip design. I love the compactness and portability of that disposable pen. The shape is more comprehensive and has a clean texture and sleek appearance. I admire the straightforward interface of Esco Bars Mesh, which requires no or minimal maintenance. More importantly, the petite style of this pen empowers me to draw anywhere I want without getting noticed.
Flagon-Shape
The design flagon-shaped vapes attracts users because of its innovative style. Esco Bars H20 6000 puffs revived my vaping experience. Moreover, it fits perfectly in a backpack, pockets, or hand. Such a modern design disposable device that I love to carry with me everywhere. The graceful and lightweight H20 6000 from Esco Bar grip and performance are exceptional. In essence, you can easily do vaping unflaggingly with its streamlined design.
Ergonomic Gripping
Esco Bars puff sticks come with ergonomic gripping for a comfortable vaping experience. Furthermore, the non-slippery surface of disposable e-cig provides a stable grip and anyone who prefer a firm grip vaporizer. A better option than these e-cigs regarding comfortable design and grip couldn't be available. Undeniably, bulky disposable pens are not problematic but also a hurdle for longer sessions. Many vapers complain that they feel pains in their fingers and hands while holding e-cigs. Suppose you want to vape all day without feeling any discomfort. We would endorse the puff stick's lightweight, ergonomic design for chill-out vaping sessions.
Unique and Wide Range of Vape Flavors
Esco Bars vaping sticks are available in a myriad of palate options. You'll find every flavor there, including savory, tangy, cooling, and sweet. Cater to the cravings and mood swings with intensive e-juice flavors. We mostly give a shot to various fruity e-liquids of Esco Bar Mega for rousing vaping sessions. The delicious and fruity sharpness of its flavors give peace of mind.
Furthermore, allow users to relish the authentic refreshing puffs for 24 hours without acquiring a stale aftertaste. I loved Esco Bars Mesh 6000 honey mango e-juice with a bold blend of luscious mango. Also, the sweet honey palate in this e-juice is a piece of heart for many cloud-cashing vapers. Indeed, fruity e-liquids are too good for easy-going summer and zesty refreshments.
Advanced Tech & Premium Quality
Innovative features of disposable e-cigs every time provide consistent vaping sessions. Our team was surprised by the exceptional and pioneering technology of Esco Bars vapes. We appreciate the modest heating system and safety features. I'm the one who likes simple settings. In a few words, not even a single vaping stick brand can beat its premium quality. The top-notch texture of the vaping sticks is built to last longer and withstand daily use. Every aspect assures that you will never face leakage or scratches issues. You can use these devices 24/7 without panic. It would not get the wear and tear signs after rigorous use. That's because of peerless build quality.
Water-Based Nicotine By Aquios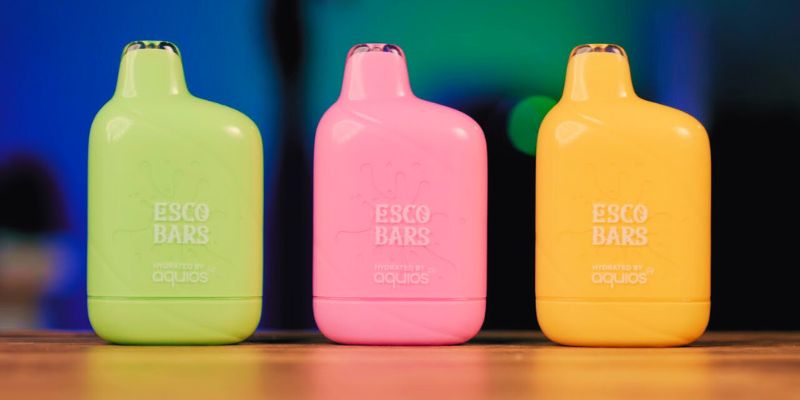 Esco Bar H20 series, compared to traditional disposable pens, include 30% water in the e-juice solution. Thanks to Aquious bringing flavorsome and less dehydrating e-liquid. Here is the experience that I had with Esco Bars H20 2500. I appreciated the lower PG and VG content in the e-juice, which prevented me from feeling dehydrated. Everything worked exceptionally well. I had never encountered such a clean and refined taste before. Esco Bars H20 will be worth pursuing who don't like more PG/VG contents in e-liquids.
Mesh Coil For Purer Clouds
We adore zero spit back, purer and delicious clouds that Esco Bars offers. Designs of mesh coils make their vapor pen so popular. I tried other e-cigs, but one of my biggest problems was spitting back. But in the case of Esco Bars vapes, I never experienced the e-juice spitting out of e-cigs coils into my mouth during vaping. Thanks to long-lasting premium mesh coils for serving the taste buds with the best quality flavors. My taste buds never felt such a lip-smacking palate ever. That's because of its fantastic e-cig mesh coil, which delivers flavorful vapors readily.
Impeccable Performance
Second-to-none and impeccable performance provides the vaping experience you are craving. Each vaping device is crafted carefully, and the price of Esco Bars is affordable. Every component, from the leading-edge heating system to the powerful battery, ensures top-notch performance. Let's assume you are fed up with the poor performance of disposable puffs stick. Give Esco Bars Mega 5000 puffs a go and observe its uniqueness.
Auto-Draw Activated
Super convenient vaping is now possible with Esco Bars vape draw-activated feature. That seems laborious to some vapers to press buttons for the draws. We must benefit from advanced auto-draw vaping devices for convenient and easy-peasy clouds. It started working as I inhaled from the comfortable mouthpiece of Esco Bars H20 heating element. When I finished taking the draws, cloud production was stopped. In short, auto-draw technology worked smoothly, signaling the battery and heating units when to activate and when to stop working.
User-Friendly Mouthpiece
A disposable e-cig mouthpiece is as crucial as battery capacity and puff count. It must be user-friendly and ergonomic for users to enjoy a laid-back draw. Our team highly adores the drip-tip mouthpiece of Esco Bars, which provides safe hits. The shape and quality material are impressive in every inch. I was awed by the comfy and smooth puffs the cylindrical mouthpiece offers to enrich the vaping journey. You'll feel no trouble taking a smooth draw from the elongated tip of the mouthpiece.
Durable and Rechargeable
My experience shows how long Esco Bar could last depending on storage conditions, battery and e-juice strength, and more. I prefer short puffs. The longevity is affected by puff durations. The longer draw you take. The faster will be the lifespan of disposable devices. The lifespan of the Esco Bars Mega captured my heart. The 14mL e-liquid with the right nicotine strength and rechargeable 600mAh battery has an extended lifespan than other disposable vaping devices. Its rechargeable battery charges so quickly. I don't have to wait longer for the pen to be recharged within an hour. The battery timing is too good. It lasts up to many soothing vaping sessions.
Cost-Effectiveness
Best Esco Bar flavors puffs sticks are a real treat to your friends and your cravings. Apart from taste, an engaging design that is known to last longer and is very simple to upkeep. That's pure joy with vaping sticks that will surely exceed the user's expectations with superior durability and performance. Moreover, you'll agree that disposable vapes from Esco Bars are worth the money. Have fun-filled vaping sessions with high-end vapes.
Co-Branding Marketing Strategy
A few vape brands still need to launch co-branded products. For instance, if we look at Lost Mary and ElF Bar product lines. They don't have co-brand products. I choose co-brand vapor devices, including Fruitia X Esco Bars and Noms x Esco Bars disposable vapes. They offer exclusive features and innovative designs and serve lively vaping sessions.
Take Away
Esco Bars disposable vape aesthetic, functional design, cost-effectiveness, performance, durability, and many more features win vapers' favor. The flagon, pen shapes vapes and the ergonomic gripping are gaining huge admiration worldwide. Worth the investment if you want discreet vaping sessions. As far as my personal opinion and experience are concerned. Vaping with the flavorful puff clouds was my ideal pick. Also, I savor eye-opening packaging, hits smoothness, and groundbreaking features. Besides, the performance of these vapes is peerless and remains the same from end to end. Bottom line, if your taste buds eagerly yearn for a one-of-a-kind taste experience. Rest assured, trying best Esco Bars flavors will be optional for gratifying vaping sessions.