5 Top-Tier Esco Bars Strawberry Vape Flavors
For lovers of fruit-inspired disposable vapes, Esco Bars offers an impressive selection of strawberry variants. Navigating through these choices might seem overwhelming. Our team explored the market, evaluated several options, and pinpointed the 5 standout Esco Bars strawberry flavors for your convenience. Continue reading for details.
Diving Deep Into Esco Bars Strawberry World
In this review, we walk you through the 5 different variations of strawberry Esco Bars vape flavors including Strawberry Milkshake, Strawberry Shortcake, Berry Strawberry Ice, Strawmelon, and the classic Strawberry flavor. Have a look.
Milky Delight: Strawberry Milkshake
Strawberry Milkshake is one of the great-tasting strawberry Esco Bars flavors that every strawberry lover must try. As I hold the vape I feel the smell of fresh ripe strawberry with creamy notes in the background. This flavor is carefully crafted and perfectly balanced to give it a taste that is true to the original drink. On the inhale, I feel the taste of fresh and sweet strawberries with a creamy taste popping in soon afterward for a nice creamy strawberry exhale. The strawberry taste is the most dominant in this flavor while the creamy notes are mild but noticeable. This disposable vape is great for enjoying on a sunny summer day or any other day that you want to treat your taste buds to a delicious fruity-creamy vape. We recommend you try out Esco Bars H20 6000 to experience this flavor.
Dessert Dream: Strawberry Shortcake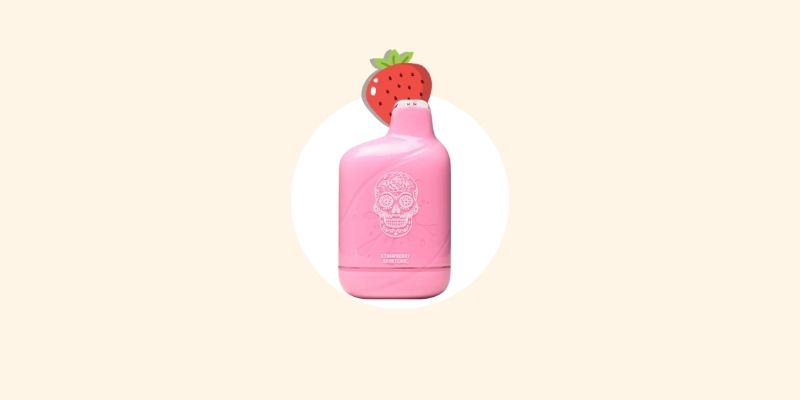 When you try out Strawberry Shortcake you will agree with us that it tastes exactly like real-life strawberry shortcake. The first flavor you will notice when you puff this vape is that of sweet, ripe strawberry followed by that of shortcake. It is a nice flavor to enjoy after having a heart meal for lunch or dinner. I tried Esco Bars Mesh 6000 and it felt like the dream dessert that I always wish to have after a heavy lunch meal. The best part is that this disposable vape is long-lasting to ensure you enjoy the tasty strawberry shortcake from the first puff to the last one. As you inhale this Esco Bars you may not notice much of the taste but it gets better towards the end of the inhale and as you exhale.
Cool Combo: Berry Strawberry Ice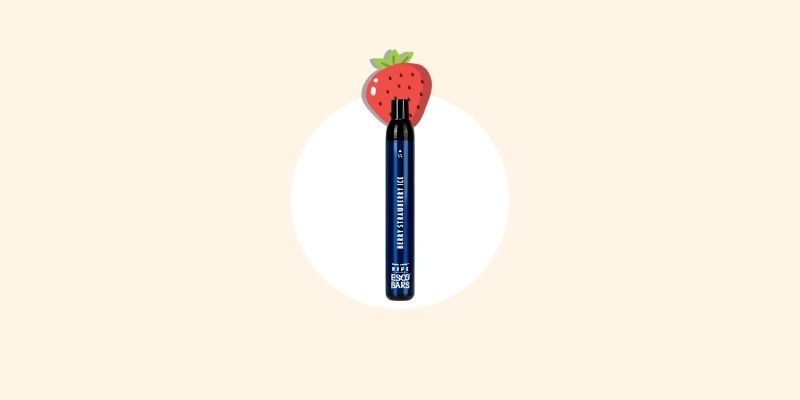 If you need a sweet chill strawberry vape to cool you down and satisfy your cravings, then Berry Strawberry Ice Esco Bars is your go-to. We call it the cool combo because it is sweet and cool as ice thanks to the berry strawberry and ice combination. This flavor contains extra loads of ice which makes it one of the coolest strawberry flavors in this category. It is a great pick for anyone who loves the cool kick of menthol but also fancies a little sweetness of fruity hits. Esco Bars Berry Strawberry Ice is a well-made disposable vape that delivers better quality flavor and performance than most popular brands with the same flavor. We highly recommend that you give it a try to experience its delicious goodness first-hand.
Dual Euphoria: Strawmelons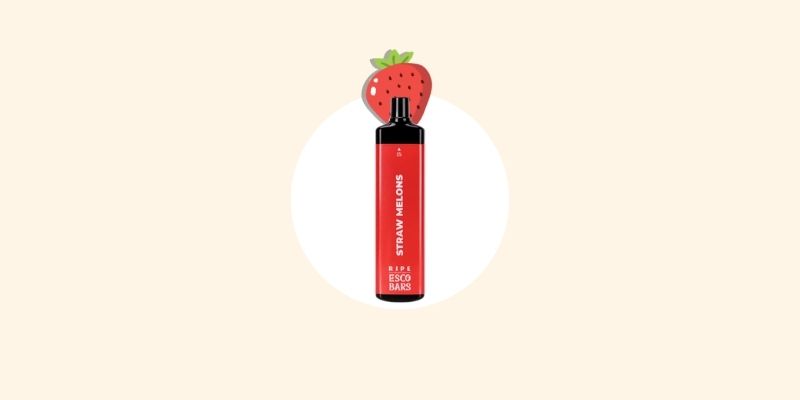 When you see the name Strawmelons in Esco Bars MEGA 5000 you expect the flavor of sweet strawberry and watermelons. And that is true because this flavor is a combination of two very delicious fruits as the name suggests. I expected this flavor to be sweet throughout from the first puff to the last. But I was pleasantly surprised to discover that this flavor is sweet with discrete sour and tarty notes wrapped together. The twist of tart and sourness gives this flavor a unique balance that breaks the monotony of sweetness. I would recommend this disposable vape for anyone who loves fruity vapes that are not too sweet.
For strawberry lovers who like their disposable vapes as simple as can be, there is no better pick than the Strawberry Esco Bars H20 2500. It offers the simplicity of sweet, freshly picked strawberries that will leave you craving a summer vacation somewhere by the beach. This flavor is versatile and suitable for enjoying anywhere and anytime you crave it. What I like most about this flavor is that it is spot-on and tastes almost like an actual strawberry drink. This vape gives huge, velvety clouds as you puff, making it very fun and enjoyable.
Final Thoughts
There you have it, the top 5 top-tier Esco Bars strawberry vapes unveiled. These flavors by Esco Bars are perfectly blended and uniquely crafted to give accurate hits every time. They are true to taste to give you the real experience of drinking a strawberry drink. The vapor is smooth and velvety to give you an experience like no other. Also, Esco Bars vape has other flavor varieties including fruity, creamy, and icy to suit various tastes and experiences.