Fruitia x Esco Bars Mesh 6000 Review: Unrivaled Flavors Elevate My Vaping Journey
Do you want a mini-sized vape with mighty power and exciting flavors to spice up your vaping? Fruitia x Esco Bars 6000 puffs are in the market. You wouldn't believe how amazing this e-cig is! The collaboration between these two brands has resulted in one of the best devices I've ever tried. What I loved the most? I can recharge it with a Type C charger because the 15mL e-juice with 5% salt lasts many days.
Take A Closer Look
Fruitia X Esco Bars came out in a seal-packed plastic package when I unpacked it. On tearing the wrapper, I discovered a glossy-looking, beautiful small vape. It was impressive how Esco Bars had covered the mouthpiece with a 'T' shaped rubber. There is a 'remove me' sticker below the device. The adjust switch and charging port are beneath the sticker. On pressing the button, I was ready to have my first inhale from it. Overall, I was wondered by the awesome looks of it.
Basic Product Info
Overview Of Pros & Cons
Pros
● Smart design gives a better look
Easily rechargeable with a type-c charger
● Long-lasting as it offers a good puff count
● Easy to keep in my pocket
Cons
● Some people consider the number of flavors to be less
● Not suitable for people who prefer liquid nicotine units
Discover The Co-Brand Flavor Magic
Unifying the two brands in this device brings out new and exciting flavors for consistent vapers. I would pick some of them as the best Esco Bars flavors. Someone may feel like the five flavors are less but believe it, they are less yet best.
Taking my first inhale of the Icy Mint, I was impressed by the amazing vapor production from it. I got a breathtaking menthol flavor from the vapors giving me a cool and fresh feeling in my mouth and throat. It is similar to mint bubble gum which makes you smell nice. I felt it was more like spearmint in its aftertaste, and that's cool for me.
The name Jungle Juice gives the impression that the flavor will be stronger. However, I am amazed this one is mild compared to the many disposable vapes I've tried with the same flavor. It's a bit sweeter and good for people who love sweet puffs. I felt a mild yet fantastic juicy taste with this one.
Peach Watermelon is one of the most incredible flavors and the best on my list of the five flavors of Fruitia X Esco Bars. I recommend everyone try on this one because of its distinctive palate. Although I wouldn't say myself a sweet tooth, this one has the exact amount of sweetness that is just right. I can have the separate peach and watermelon flavors on my tongue, which is the best part.
My personal experience with Rainbow Cotton Candy was stronger. I tasted it with a solid feeling. Like the Peach Watermelon, this one has a slight sweetness that makes me feel good. Although it was not my type of flavor yet, people who love cute candy sweetness can try on this one as it will be relatable for them.
Have you ever tried a berry slush with a sour taste? I felt the Slushy was similar to that. There is a cool and sweet taste of mint and berries that made my taste buds go mad. I was on top of my mind after trying this flavor and would love to try this one again.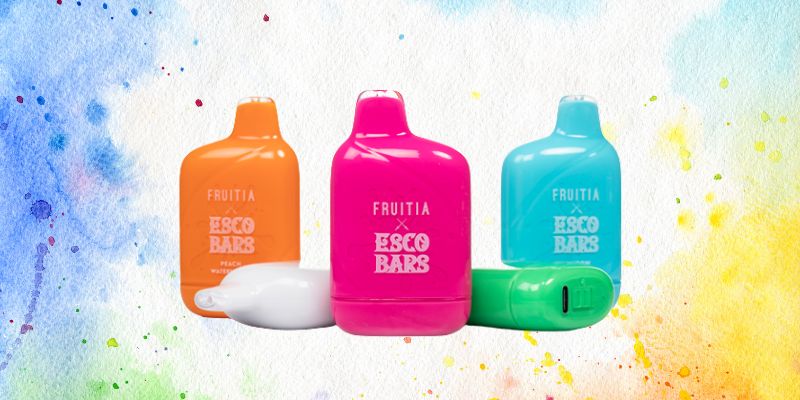 Impressive Features Deliver Top-Notch Quality
Now comes the top-notch features of Fruitia X Esco Bars that I would love to deliver to you so you can also know the impressive quality and elements it provides. Look at the explanation of these below.
Advanced Mesh Coil For Pure Enjoyment
The mesh coil mechanism in this unit is one of the awesome features that very few disposable vapes have. The mechanism helps better contact the coil with the wicking material. All thanks to the wide metal strip with holes, increasing the area inside the vaporizer. I was thrilled when I pressed the button, and the vape was instantly ready to inhale. This was due to the e-juice heating up quickly, making me very happy.
Enormous 6000 Puffs Assure Long-Term Use
The 15mL e-juice in Fruitia x Esco Bars gives you 6000 puffs, which is amazing. There's no need to run to the market only because the puff pens finish quickly. I enjoyed it for more than two weeks. And I guess even the most extensive vapers can go on for up to one week with this. I was shocked because this thing lasted ten days, even though I am a frequent vaper.
Durable Battery Performance
What's the use of 6000 puffs if it doesn't have a long-lasting battery performance? A rechargeable battery has a longer lifespan. Even if it dies, it can be recharged through the Type C port. I tested the charging speed myself and discovered it takes 40-50min for this device to fully charge, which is much faster than other puff sticks. I am a person who usually loves to travel and has always had problems with the batteries of the devices. Yet this one is on my best list as it allows me to have more puffs with a single charge.
Exquisite Design To Suit The Palm
Oh, man! The design and size of Fruitia x Esco Bars is surprisingly cool because it fits my hand cutely. I don't need to carry a separate pouch with me for keeping the vape, and it needs only a tiny space in the pocket, and that's all. While travelling, I love to carry small babes that don't burden up. So this one is truly a lifesaver for me.
The one-button function of this vape makes it a lot easier to use than others. The button is under the unit and is very easy to turn on. Apart from this, the charging port is also under it. I usually don't like the vapes where the button is at an awkward position, like near the mouthpiece. Fruitia x Esco Bars has everything for me.
Sharing My Overall Experience
I've been vaping for three years and tried on different brands and types of disposable pens but have yet to get any with everything perfect. This one has 6000 puffs, good enough for many days, long-lasting battery so you can use it for hours without charging. The most amazing factor? It offers five different flavors for almost every kind of vaping unit. I recommend going for it at least once to experience its ease of use.
Compare To Esco Bars Mesh 6000
| | | |
| --- | --- | --- |
| Product | Fruitia x Esco Bars Mesh | Esco Bars Mesh 6000 |
| Flavor Options | 5 | 12 |
| E-Liquid Capacity | 15mL | 15mL |
| Battery Capacity | 650mAh | 650mAh |
| Nic Salt Level | 5% | 5% |
| Puff Counts | 6000 | 6000 |
| Coil | Mesh Coil | Mesh Coil |
| Charging Port | Type C | Type C |
After trying these two devices, I can confidently say that, while both offer an incredible and joyful experience, the Fruitia x Esco Bars Mesh 6000 stands out to me in terms of its tastes compared to the previous range of Esco Bars Mesh 6000. The two brands' collaboration produces a unique session of flavors that I found quite appealing, which captivates my taste buds.
Final Verdict
Overall, I would rate Fruitia x Esco Bars 6000 puffs 4.5 out of 5. In addition to its novel flavors with high-end quality, this vape is truly worth considering. The elegant shape design ensures it fits my palm smoothly. The lightweight and compact build makes it easy to slip into my pocket. Nevertheless, the enormous pre-filled e-liquid features. The puff sticks I try cost a lot, but this thing isn't heavy on my money and still gives me so much. So, I would recommend it to you for its best performance and efficiency. If you are looking for a vape that adds new flavors and experience to your vaping time, there's nothing better than this.